We make use of our enzymatic and immunological measurement technologies in order to develop tests in the segments of Clinical Chemistry, Immuno-assay, Coagulation, Diabetes and Infectious Diseases. Our R&D initiatives include the development of diabetes testing systems utilizing polymeric microparticle polymerization technologies as well as the development of blood collection tubes utilizing blood component separation technologies.
Lipids (Lipoprotein); analysis technology
Measurement techniques utilizing enzymes and surfactants are applied in our in vitro diagnostics to measure LDL cholesterol (risk factor for arteriosclerosis) and HDL cholesterol (negative risk factor).
Glycated Protein Analysis
Measurement techniques based on the enzymatic method of measuring specific glycated proteins are applied in our in vitro diagnostics to measure hemoglobin A1c which supports the diagnosis and monitoring of Diabetes.
Latex Turbidimetric Immunoassay (LTIA) Analysis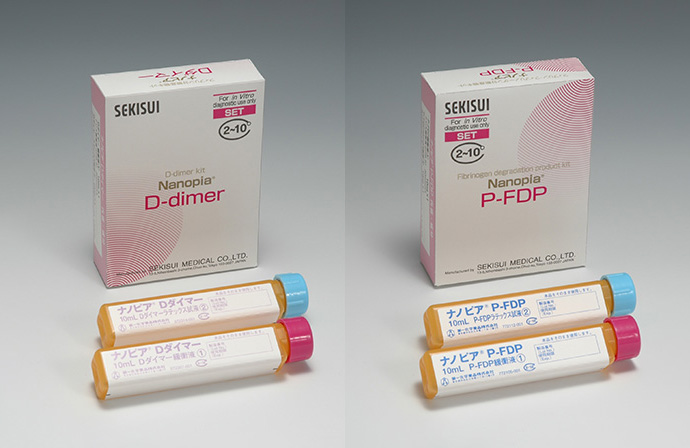 Immunoassay measurement techniques that utilize the aggregation of antibodies coated on the latex surface with the target substance (antigen) are applied in our in vitro diagnostics to measure FDPs, D-dimers etc. (risk factors in diseases such as thrombosis and DIC) in blood plasma and serum.
Immunochromatographic Analysis
Immunoassay measurement techniques that utilize the way in which particle-labeled antibodies aggregated with the target to be analysed, flows along the membrane, are applied in our in vitro diagnostics in order to diagnose infectious diseases such as Influenza A&B, quickly.
We are applying our original polymeric microparticle polymerization and surface modification technologies to develop and commercialize a diabetes testing system that can conduct accurate and quantitative analysis of hemoglobin A1c from multiple hemoglobin components.
Blood Component Separation
Separation technologies utilizing non-active materials "for with blood components" are applied in our plastic vacuum blood collection tubes.
Pharmaceutical Sciences Business
We are special in the manufacturing of optically active compounds such as pharmaceutical-grade amino acids, pharmaceutical intermediates and chiral APIs (active pharmaceutical ingredients). We implement a rapid development process capitalizing on manufacturing techniques that range from small-scale production in the initial development phase all to pilot production and industrialization.
Active Pharmaceutical Ingredient (API)
We are manufacturing more than 20 kinds of APIs, such as clemastine fumarate and pyridoxal phosphate. We also manufacture investigational APIs in the clinical development stage, and provide support to pharmaceutical companies for pharmacological product development.
Peptide Synthesis Technology
Our original peptide synthetic method, STag-PS™, is distinctive in terms of economical and environmentally friendly manufacturing. We make the utmost use of the synthetic advantage of STag-PS™ to produce the sterically congested peptides in high quality.
Instrumental Analysis and Evaluation Analytical Techniques
We have developed analytical techniques that utilize state of the art instruments based on immunological methodology and high sensitivity LC-MS/MS. Those techniques are applied in the development of methods and kits for measuring the concentration of drugs and biomarkers in biological samples, such as blood plasma and serum.
Ultrasensitive Measurement of Nucleic Acids
Our proprietary technology allows bioanalysis of oligonucleotides and other intermediate molecules with higher sensitivity compared to the typical hybridization method.