Drug Development Solutions Center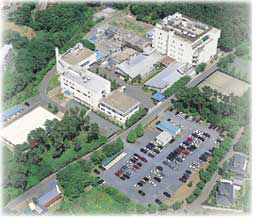 Our research laboratory was established in May 1965 in Tokai, Ibaraki prefecture, Japan for the purpose of contributing to the progress and expansion of academic research. During this 50 year period, we have worked tirelessly to support new drug developments, mainly in the field of non-clinical pharmacokinetic studies using radiolabeled compounds as well as new technologies dictated by the needs of the time, and providing satisfaction to our customers.
We will now step into a new challenge the acquisition of Proof of Concept (POC) that allows early evaluation of efficacy and safety of new drugs in humans improving the success rate of new drug development, by fully utilizing experiences acquired in our history of non-clinical studies. Specifically, our new approach to clinical pharmacokinetic studies using 14C-labeled compounds has been launched. We will further expand our responsibility as a R&D type contract research organization by bridging animal and human research in pharmaceutical drug development.
Drug Development Solutions Center