Drug Development Solutions Center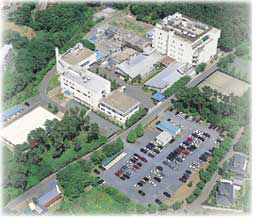 Our research laboratory was established in May 1965 in Tokai, Ibaraki prefecture, Japan for the purpose of contributing to the progress and expansion of academic research. During this 50 year period, we have worked tirelessly to support new drug developments, mainly in the field of non-clinical pharmacokinetic studies using radiolabeled compounds as well as new technologies dictated by the needs of the time, and providing satisfaction to our customers.
We will now step into a new challenge the acquisition of Proof of Concept (POC) that allows early evaluation of efficacy and safety of new drugs in humans improving the success rate of new drug development, by fully utilizing experiences acquired in our history of non-clinical studies. Specifically, our new approach to clinical pharmacokinetic studies using 14C-labeled compounds has been launched. We will further expand our responsibility as a R&D type contract research organization by bridging animal and human research in pharmaceutical drug development.
SEKISUI MEDICAL CO., LTD. Drug Development Solutions Center acquired full accreditation of the International Certification Body AAALAC International (Association for Assessment and Accreditation of Laboratory Animal Care International) in June 2014, and the full accreditation was renewed in June 2020.
In handling laboratory animals, we follow "the Guide for the Care and Use of Laboratory Animals, NRC 2011" as an international standard guideline, and "Act on Welfare and Management of Animals" along with "Standards Relating to the Care and Management of Laboratory Animals and Relief of Pain" as Japanese regulations. We strive for appropriate use of laboratory animals based on humane and scientific management in consideration of animal welfare.
When conducting animal experiments, the Institutional Animal Care and Use Committee (IACUC) confirms that whether the experimental protocols are taken into account the 3Rs , i.e., Reduction (reduction of usage), Refinement (pain reduction), and Replacement (use of alternative methods). Additionally, when the animal experiment is completed, the implementation results are reported to the IACUC. Even when outsourcing animal experiments to the subcontractor, the IACUC confirm that the animal experiments are conducted properly.
The IACUC conducts a self-inspection of our facilities once every six months, and regularly reports to the institutional officer of improvement that efforts are in line with the improvement program. Post-approval monitoring is also conducted to monitor whether animal experiments are being conducted in accordance with the approved study protocols.
The use of genetically modified animals is permitted according to the regulations of the Biosafety Committee.
In addition, to commemorate laboratory animals, we built a monument for animals on the site, and we hold an animal memorial service every early summer.