From Ireland to a mega city across the world
I was born in a small town in Ireland, a place very different from Tokyo. I did my master's degree in biotechnology in an old Irish city, at the National University of Ireland, Galway. Big decisions loomed as graduation approached. I loved my field, but wanted to expand my horizons beyond the laboratory, and also wanted to see more of the world.
Sekisui presented the perfect opportunity for change and a new experience. I could stay in the sciences but see more of the world. I could start building my career in one of the world's leading medical companies and learn another language and culture at the same time. I had the opportunity to grow both professionally and as a person in an exotic (at least to me), new environment. Moving to Sekisui Medical was the obvious choice.
Nascent idea to full-fledged product
I moved directly from a master's course in biotechnology to the marketing department, from pure science in graduate school to a mix of marketing and science here at Sekisui. My coworkers and I seek out what markets and customers need and want. We have to listen carefully. Some customers want us to develop new products. Others ask us to modify products they already use.
Always working closely with our customers, we sometimes come up with new ideas ourselves on ways to innovate. We send our ideas to the R&D department and meet with them to discuss design stages and overall feasibility. If the R&D department has faith that a new project is doable cost-wise and technically, we see our ideas expressed as real-world products or services.
Sometimes I travel abroad to promote Sekisui products. The destination is usually Europe, but my next trip will be to the United States. I'm also trying to enlist several Irish professors in a project to market a Sekisui product in Ireland.
Colleagues rely on my abilities in English in multilingual environments. I catch key nuances they miss in discussions with overseas colleagues and clients and help them navigate in communications. I also translate documents and interpret at marketing meetings.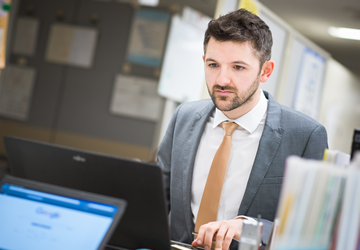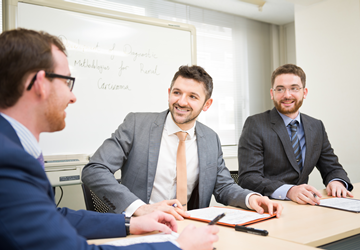 Language is not a problem
The language barrier turned out to be less of a problem than I expected. Most Japanese are friendly and curious about foreigners. Some people shrink away out of fear of speaking English, but not so often as you might think. It almost never happens at Sekisui. Colleagues from the marketing department are especially comfortable with English. Marketers are natural extraverts who venture out of the office to meet people every day.
Scale-wise, Sekisui Medical is close to a village: somewhere near a thousand people work for the company in Japan. That's a big number, but not too big to process mentally. Over time you get to meet most of the other employees and start to recognize faces wherever you go. No one ever gives you the "Who's this person?" treatment when you ask someone unfamiliar for help.
Another perk of working here is the hospitality. Sekisui really takes care of its overseas recruits. They opened a bank account for me and found me an apartment, set up with gas, water and internet as well as helping me get phone. They accompanied me to immigration and guided me through the daunting paperwork. They still come to my rescue when I run into stumbling blocks as a foreigner living in an, occasionally strange, land.
Sekisui Medical - To Markets Overseas
Sekisui Medical has product lines and technologies that are well developed in Japan but still unexplored overseas. By introducing those products and technologies abroad, the company can grow even faster as a global presence. I'm the guy on the front lines in that effort. My role as a communicator is key. By sharing what Sekisui Medical has to offer outside of Japan, I can position myself to deliver more.
Language-wise, I've reached a comfort zone that has been holding me back. Now that I can get by with my Japanese I'm losing motivation to study. But so many things are still difficult to understand and express. Snapping out of my "learner's fatigue" is a big challenge.
My work experience and in-depth knowledge of the whole cycle from order processing to export logistics will serve as a firm foundation for my upcoming projects. Before long, I hope to play a key role in sales promotion and project management for both the EU and North American markets. I will be using my experience in supporting overseas customers in collaboration with our in-house teams in Tokyo to innovate and improve Sekisui's business relations in the markets I handle. With Sekisui's solid support network behind me, I can stand with confidence in front of customers and streamline our businesses by bridging language and cultural barriers.