Embracing a new life direction
As a child I was exposed to biology and medicine from a young age as my parents both worked in the field of medicine. Later, as a student, I majored in chemical physics and conducted scientific research while also working part-time in a pharmacy so it seemed only natural that I would take up a career related to medical science.
However, when facing graduation and the choice of where to work I felt compelled to explore something new. I come from Scotland in the UK but experienced many countries as a child and I feel that this helped me to become more flexible and open-minded. When I came to Japan, I found that the culture and way of life were quite different from back home; it left a lasting impression and led to my decision to move, to live and work in Japan. Importantly though, I also wanted to apply the skills I had developed in University. SMD really ticked the boxes providing an opportunity for me to apply my experience, while also embracing a new life in Japan.
Ensuring safety is a critical responsibility in the pharmaceutical field
I currently work in our Tsukuba Plant's Quality Control Department, analyzing and investigating raw materials used in our products, and the effects of the products we produce, to ensure safety. Recently, my responsibilities have included working on product development projects in which SMD collaborates with major American companies. As part of these collaborations SMD imports materials produced overseas for commercialization in the Japanese market. Consistent quality is a fundamental necessity and one of my key responsibilities is testing to ensure that such materials meet the high standards of our existing products. Reports also need to be sent to America about materials that do not pass pharmaceutical testing or do not readily produce results, so I handle processing of these issues and the interpretation of analysis data. I feel a big sense of responsibility when it comes to having conferences about our findings because I have to ensure that everything runs smoothly and is productive for both sides, Japan and America. Acting as a bridge between the two sides, and two languages, can be a heavy responsibility as I often have to control dialogue and manage cultural differences on the fly. The challenge is rewarding though and I have enjoyed going on a number of overseas business trips too.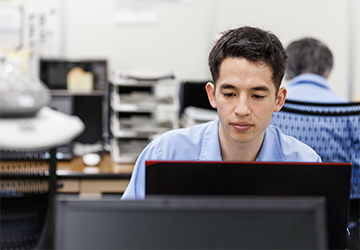 An environment where experienced specialists support each other
Communication is imperative in working smoothly and avoiding potential issues, and dialogue with my superiors is constant both around the content of my tasks and for the regular reporting of my activities. My supervisors have a wealth of knowledge and experience, so when I encounter an unexpected result or problem, their advice is invaluable in finding an appropriate solution. My colleagues are also experienced specialists, so if I don't understand something, I can always get an answer if I ask them. In addition to the people in my department, I also sometimes work with R&D to ensure that the products we make are safe. While each department has its own character, I've never felt that there are any walls between us. I think that while we each have our own specialty, we all support each other.
Expanding my skillset beyond just the current necessities and looking to future innovation
With an eye to the future I'd like to take a preemptive approach and further develop my skills to be ready for changing work needs. One of these skills is programming. These days, quality control requires management of a vast amount of data, decades of past data. I wonder, for example, what would happen if there was a program that could use the data we have accumulated to predict issues that may occur in a test or in the production of a specific product. This would enable us to achieve higher speed and efficiency in production. For the time being these are pipe dreams but I hope to be able to lead these new innovations as our operations develop. In the meantime however I have my sights set on more immediate practical ambitions, I want to pass the Japanese Standards Association's Quality Control Examination. Leveling up my core knowledge base is helping me to better understand my role. It empowers me to work toward my future while also integrating my career goals with the needs of the company. As a result I can increasingly see my impact in achieving and surpassing high standards in quality control.