We quickly and flexibly handle process development, manufacturing of grams to couple of kilograms, pilot-scale manufacturing, and industrial-scale manufacturing.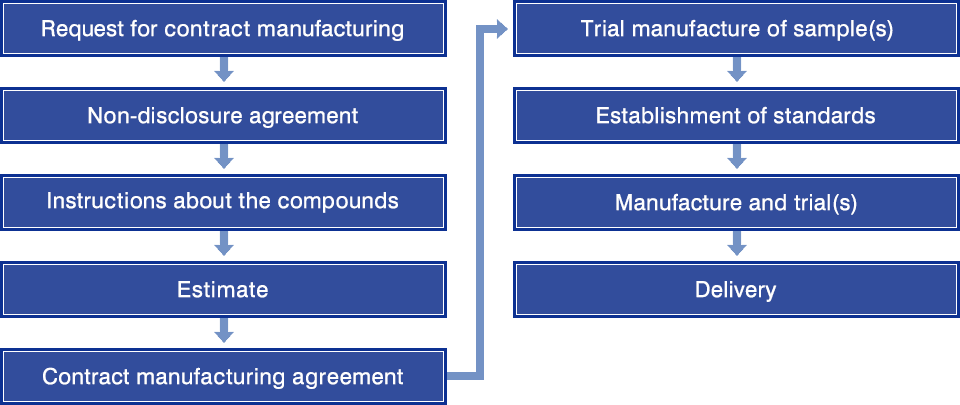 Technology

Our technical staffs at R&D Center manage small-scale study, pilot manufacturing, and up to industrial-scale manufacturing.
Quality

We have been developing latest GMP systems. We are ready for audits by domestic and overseas customers at any time. We offer quality assurance by testing products with our latest analytical apparatuses.
Manufacturing

We are capable of both water-based and organic solvent-based manufacturing thanks to our multi-purpose facility. We will meet the customers' various needs with adequate equipments that can carry out any reactions and treatments. Our facilities conform to GMP.
Environmental Considerations

We obtained "ISO 14001" certificate and have been actively addressing the establishment of environmental management system. We are trying to make our factory more environment-friendly with wastewater treatment (anaerobic fermentation processing facility and activated sludge processing facility) which had been constructed with environmental protection in mind.
Features of the Iwate Plant
A green parkland plant in harmony with the natural environment
The Iwate Plant manufactures various types of product groups. It is located in Hachimantai, Iwate Prefecture roughly 600 km from Tokyo and around 40 km north-west of Morioka. It has views of Mount Iwate to the south and the mountains of the Towada-Hachimantai National Park to the west. It is blessed with an environment that has pure water and great natural beauty throughout the changing seasons.
The Iwate Plant has roughly 450,000 m2 of land. Stage 1 of its construction was completed in 1978, and the plant came into operation in 1979. Since the completion of Stage 2 in 1981 and Stage 3 in 1985, the Iwate Plant has operated as our Pharmaceuticals and Enzymes Business production base. Stages 4 and 5 of its construction were carried out in 2000, setting up a production system for pharmaceutical intermediate related items, with an emphasis on optically active substances.
In addition, the Iwate Plant has in place the cGMP control system required for the manufacture of pharmaceuticals. We have several items registered with the American FDA, and have undergone a number of inspections since 1984 in which we have received high ratings.
We are moving forward steadily with environmental measures. Following the agreement on environmental pollution control concluded with Hachimantai (Matsuo-mura), Iwate Prefecture in 1977, our anaerobic treatment facility was completed in 1992. The aim is to be an environmentally-friendly plant, and we acquired ISO14001 certification in the spring of 2001.