Soluble Fibrin Monomer Complex Kit
Nanopia SF
We created this page for medical staff.
*

Read carefully the package insert before use.
Measures FM (fibrin monomer) and SFMC (soluble fibrin monomer complex. Detects only FM and SF formed by the action of thrombin on fibrinogen. Does not react with fibrinogen degradation products formed by the action of plasmin
Specifically reflects hypercoagulable states
Plasma (citrated plasma) samples can be used
*

This package insert follows the Pharmaceuticals, Medical devices and Other Therapeutic Products Act of Japan.
Product Name
Package
Storage
Nanopia SF
SF Buffer Solution 1
1×10.5mL
2-10℃
SF Latex Reagent 2
1×10mL
2-10℃
SF Calibrator*
1×5conc.×0.5mL(lyophilized)
2-10℃
SF Control*
3×2conc.×1mL(lyophilized)
2-10℃
*

Not an in vitro diagnostic product in Japan.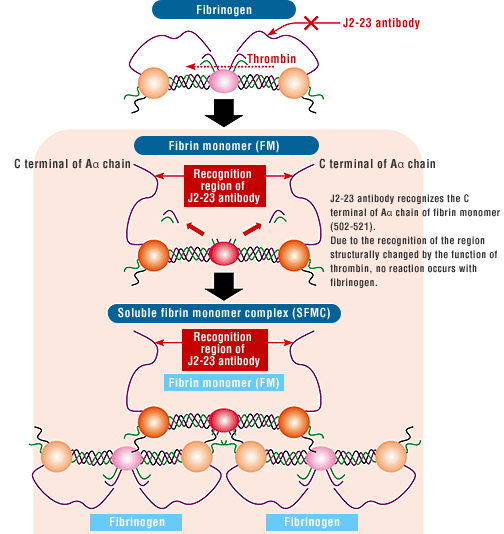 "Nanopia" is a trademark or registered trademark of SEKISUI MEDICAL CO., LTD. in Japan and/or other countries.
We prepared this page for medical staff (doctors, dentists, pharmacists, clinical laboratory technicians, nurses, etc.) in Japan to ensure the correct use of our products. You should be aware that the information provided is not intended for overseas medical staff and the general public.