Cholesterol Kit
Cholestest CHO
We created this page for medical staff.
*

Read carefully the package insert before use.
Reagent 1 : Enzyme Solution 1 is ready to use.
Reagent 2 : Enzyme Solution 2 is ready to use.
This product is compatible with various automated analyzers. An example of the assay procedure is indicated below.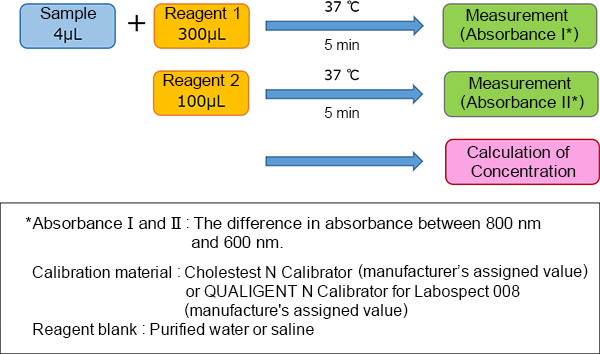 Assessment of Assay Results
1

Reference Interval

142-248 mg/dL
(References: Kanai M. (supervising editor): Kanai's manual of clinical laboratory medicine. 34th ed. 512, Kanehara Shuppan, 2015.)

2

Precautions for Assessment

There may be reactions or interfering reactions with non target substances. If assay results appear to be unreliable, repeat the measurement (if necessary, after dilution) or try another analytical methods.
"Cholestest" is a trademark or registered trademark of SEKISUI MEDICAL CO., LTD. in Japan and/or other countries.
We prepared this page for medical staff (doctors, dentists, pharmacists, clinical laboratory technicians, nurses, etc.) in Japan to ensure the correct use of our products. You should be aware that the information provided is not intended for overseas medical staff and the general public.