Insulin Kit
NORUDIA Insulin
We created this page for medical staff.
*

Read carefully the package insert before use.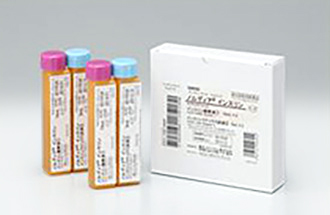 Ready-to-use liquid reagent
Applicable to various automated analyzers
Blood sugar and insulin can be measured at the same time from a glucose tube (NaF tube)
Good reagent stability in non-calibration.
*

This package insert follows the Pharmaceuticals, Medical devices and Other Therapeutic Products Act of Japan.
Latex Immunoturbidimetric Assay

Insulin in samples agglutinates with anti-human insulin monoclonal antibody coated latex through an antigen-antibody reaction. The change in absorbance caused by this agglutination is measured to determine insulin concentrations.
Product Name
Package
Storage
NORUDIA Insulin
Insulin Buffer Solution 1
2×15mL
2-10℃
Insulin Latex Reagent 2
2×5mL
Product Name
Package
Storage
Insulin Calibrator*
1vial×6oncentration for 1mL
2-10℃
Insulin Control*
3vials×2concentration for 1mL
*

Not in vitro diagnostic products in Japan.
"NORUDIA" is a trademark or registered trademark of SEKISUI MEDICAL CO., LTD. in Japan and/or other countries.
We prepared this page for medical staff (doctors, dentists, pharmacists, clinical laboratory technicians, nurses, etc.) in Japan to ensure the correct use of our products. You should be aware that the information provided is not intended for overseas medical staff and the general public.