LDL-Cholesterol Kit
Cholestest LDL
We created this page for medical staff.
*

Read carefully the package insert before use.
Cholestest LDL is a liquid reagent for the measurement of LDL-cholesterol concentrations using differences in affinity between lipoproteins and detergents. It requires no fractionation steps and can be used on various automated analyzers. It also shows a high correlation with the ultracentrifugation method.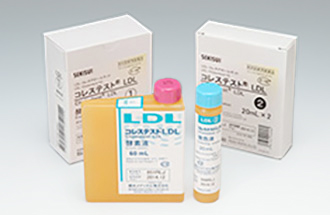 Use of the direct method requires no complex operations
High correlation with the ultracentrifugation method
Liquid reagent applicable to various automated analyzers
Not influenced by chyle (up to 1500 mg/dl of triglyceride)
*

This package insert follows the Pharmaceuticals, Medical devices and Other Therapeutic Products Act of Japan.
Detergent 1 does not change the structure of LDL, but changes the structures of chylomicron (CM), VLDL, and HDL, triggering the enzymatic reaction of cholesterols in these lipoproteins with cholesterol esterase (CE) and cholesterol oxidase (COD). Hydrogen peroxide (H2O2) formed in the reaction is eliminated by the actions of peroxidase (POD) and 4-aminoantipirine (4-AA).
Add surfactant 2 to change the structure of LDL that remains without participating in the first reaction which leads the enzymatic reaction. The reaction reagent contains the coloring agent N, N-bis (4-sulfobutyl) -m-toluidine disodium (DSBmT), which leads to hydrogen peroxide generated from LDL-cholesterol into a blue-violet color reaction and colorimetric determinate.
Product Name
Package
Storage
Cholestest LDL
Enzyme Solution 1
2×60mL
2-10℃
Enzyme Solution 2
2×20mL
Cholestest N Calibrator*
3×2.0mL
*

Not an in vitro diagnostic product in Japan.
"Cholestest" is a trademark or registered trademark of SEKISUI MEDICAL CO., LTD. in Japan and/or other countries.
We prepared this page for medical staff (doctors, dentists, pharmacists, clinical laboratory technicians, nurses, etc.) in Japan to ensure the correct use of our products. You should be aware that the information provided is not intended for overseas medical staff and the general public.